Discover our strengths
Cactus Communications comprises a multi-disciplinary team with an average 25 years of hands-on, PR and marketing experience across various industries. Harnessing our skillsets in copywriting, design and digital development, we work closely with customers to offer a fresh and professional perspective on specific communication needs.
Cactus is bizSAFE3-ready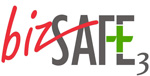 Workplace safety and the welfare of people come first at Cactus. A keen advocate of work-life balance, Cactus fully supports the cause of women and mothers working from home.
Cactus is GDPR-ready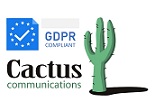 Data and privacy protection is core to professional and responsible communications. Cactus has a Data Protection Officer and control measures in place to ensure clients' data assets are secured according to GDPR guidelines.
Cactus is growing!
If you are always curious, like to write and thrive in prickly conversation, you may just be the person we are looking for.
Job Opportunities